Standard Features
Natural gas
Electronic ignition with SureFire switch
Beautiful fire with platinum and ember glow embers
Black vermiculite floor
Ceramic glass
Maximized viewing area
Top or rear vent for versatile installations
Wall mounted on/off switch
Options
Louvers
Black flush panels
Finishing trim (3 piece)
Arch full screen doors
Mesh glass guard
Brick panels
Inner reflective panels in black enamel
Ember upgrade kit
Variable speed blower
Problem remote control
Propane conversion kit
Specifications
Maximum BTU: 31,000(NG); 31,000(LP)
Efficiency: 71%(NG); 71%(LP)
View Area: 641 sq in.
Vent Type: Direct Vent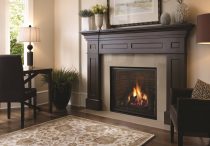 Standard Features
Natural gas
High definition 8 piece ceramic log set
Hand painted, high definition ceramic glowing ember bed
Split flow burner to allow for variable heat control
Electronic ignition with SureFire switch
ProFlame GTMFS remote control
Clean face front with ceramic glass
Accent light
Options
Old town red, ledgestone, castlestone and black enamel inner panels
Black full screen door
Mech glass guard
Propane conversion kit
Specifications
Max. BTU: NG 48,000/ LP 48,000
Efficiency: NG 79%/ 79%
Viewing Area: 965 sq. in.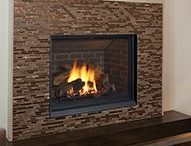 Standard Features
Natural gas or Propane
Electronic ignition with SureFire switch
Beautiful fire with platinum and embaglow embers
Black vermiculite floor
Ceramic glass
 Macimized viewing area
Top or rear vent for versatile installations
Wall mounted on/off switch
Options
Louvers
Black flush panels
Finishing trim (3 piece)
Arch full screen doors
Mesh glass guard
Brick panels
Inner reflectie panels in black enamel
Ember upgrade kit
Variable speed blower
Proflame remote controls
Specifications
Max. BTU: 42,500
Efficiency: 73%
Viewing Area: 840 sq. in.